Henrietta Nielsen, Assistant Professor
The long-term goal with the research conducted by our team is to identify disease pathways which can be disrupted either at an early point in order to prevent disease or at a later point to halt or alleviate already manifest neurodegeneration caused by various disorders such as Alzheimer's disease and dementia with Lewy bodies.
Nielsen Lab September 2017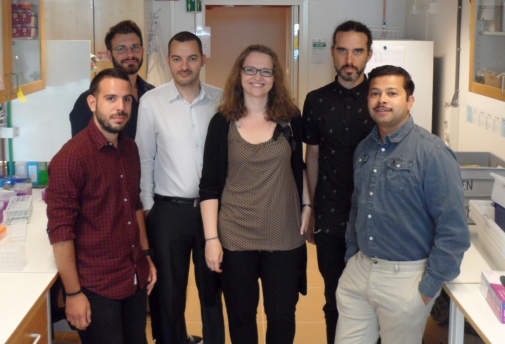 Research Project
Alzheimer's disease (AD) followed by dementia with Lewy bodes is the main cause of neurodegenerative dementia. The neuropathological hallmarks for these disorders are different however they do share many similarities. Risk factors for both disorders include high age, gender and various environmental factors affected by diet, exercise and education. The APOEε4 allele is to date the strongest and most replicated genetic risk factor for sporadic late onset AD and recent studies have further demonstrated an increased risk of DLB in individuals carrying an APOEε4-allele. In contrary, the APOEε2 allele is protective against both disorders. In humans the APOE gene is polymorphic with 3 different variants (APOEε2, APOEε3, APOEε4) contrary to other mammals who only have one type. The biological mechanisms underlying the variation in risk of diseases due to APOE genotype are yet to be determined. It is well-known that individuals with an APOEε4 genotype exhibit AD-related brain pathology already at the 4th or 5th decade of life in the absence of cognitive symptoms. We have previously shown that the APOE gene product apolipoprotein E (apoE) negatively affects amyloid-β uptake in cultures of primary human glial cells (Nielsen et al 2010, Mulder et al 2014) as well as rodent cells (Fu et al 2016). Results from our recent studies also propose that APOEε4-carriers are deficient in plasma apoE due to a specific reduction of apoE4 isoform levels (Martinez-Morillo et al 2014). Whether this plasma apoE-deficiency contributes to risk of neurodegenerative disease is one of our main research areas.
In our group we investigate biological mechanisms promoting/leading to neurodegenerative dementia. Using primary human cell cultures we are investigating the cellular responses to disease-associated molecules and in brain tissues from patients with neurodegenerative dementia we are searching for disease-specific protein complexes that can be traced as biomarkers in either cerebrospinal fluid or plasma samples from patients at risk of or with neurodegenerative disease
Currently we are working on three main research topics:
Whether and how alpha-synuclein relates to Alzheimer's disease pathogenesis and pathology
Whether and how the expression of different apoE variants in the periphery relate to pathological processes in the brain
Which plasma and cerebrospinal fluid markers can aid identification of individuals who will develop neurodegenerative disease and which markers can aid the differential diagnosis of patients with manifest neurodegenerative dementia
In our efforts to further our understanding of processes linked to neurodegenerative disease we have for several years closely collaborated with many international colleagues and are always open to new collaborations.
Key collaborators are:
Dr. Eleftherios Diamandis and team at the Mount Sinai Hospital/Research Institute, Toronto Canada.
Dr. Linda White and team at NTNU, Trondheim Norway
Dr. Kevin Morgan and team at the University of Nottingham, Nottingham UK
Dr. Robert Veerhuis and team at the VU University medical center, Amsterdam the Netherlands
Dr. Ioannis Sotiropoulos and team at the Minho University, Braga Portugal
Dr. Pamela McLean and team, Mayo Clinic, Jacksonville FL USA
We gratefully enjoy current support for our research from:
VINNMER/Marie Curie Returning Grant (Sweden/EU)
Marcus Borgströms stiftelse (Sweden)
Stiftelsen Demensfonden (Sweden)
Alzheimer's Association (USA), Henrietta featured in Alzheimer's Association's Women #ENDALZ
Stiftelsen Olle Engkvist byggare
Former students:
Natalia Fijol, Research trainee
Catharina Lotsch, Erasmus exchange student
Durga Inturi, Master diploma student
Erik Becher,

Bachelor's student